Rolling Stack Blackjack
Rival Gaming released Rolling Stack Blackjack for Online Casinos
In the fall of 2021 Rival Gaming announced the release of Rolling Stack Blackjack specifically for online casinos.
Although not out for very long the games has been gaining quite a bit of interest among blackjack players. Many novice as well as professional players enjoy this new variation.
What is Rolling Stack
Rolling Stack Blackjack, an online casino table game developed by the Rival Gaming software supplier, provides a fresh and innovative take on the classic blackjack game, only a little different. Side bets give players high returns and relaxed gameplay, while allowing them to take advantage of a side bet's benefits.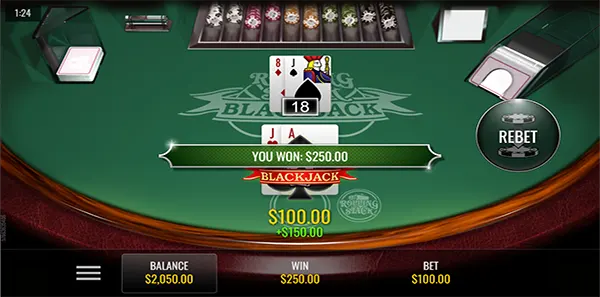 Game Screenshot from Desert Nights Casino
The above screenshot is representative of a Rolling Stack blackjack hand played at Desert Nights Casino. Rolling Stack can be played at a number of online casinos.
How do I win Rolling Stack Blackjack
In order to win the game, players must have one of the different two-card hand combinations, which include an Ace-King Suit, Straight Flush, Straight, or a Pair. If any of these hands is dealt to a player at the start of their game, you will win!
There is the option for the player to either collect their winnings or add them to their regular blackjack bets.
What is the Main Appeal of Rolling Stack
The most appealing feature of this blackjack variation is the high Return to Player (RTP), which is 97.21%. In addition to its minimalist classy appearance, Rolling Stack Blackjack has a number of advantages if played correctly. Whether you're a fan of table games or card games, you can play this online casino game across different platforms and devices.
How to Play Rolling Stack Blackjack
In Rolling Stack Blackjack, an additional wager is placed on top of the classic blackjack bet. The additional bet is multiplied if you make either an Ace/King of the same suit, straight flush, a normal straight or a pair. In the event that a player begins with one of these hand rankings, they may collect their winnings or use the amount toward their standard blackjack wager.
The player wagers a standard blackjack wager before each round, then decides whether to add a Rolling Stack wager. The player then receives his or her first two hands.
Basically, the side-bets that pay out when you score one of two card combinations are:
Ace/King suited
Straight Flush
Pair
Straight
If the Rolling Stack bet is part of a winning combination, players may choose to collect the proceeds (winnings and original wager) or add it to their standard blackjack wager if they wish to get an even bigger reward.
Recommended Casinos to play Rolling Stack Blackjack Blackjack
You can play rolling stack blackjack at most Rival casinos. Below we have listed a few of the most popular
Visit Slots Capital Casino to play Rolling Stack.
You can Play Rolling Stack Blackjack at Desert Nights Casino.