Suit 'Em Up Blackjack
Well known in Las Vegas Casinos this form of blackjack has made it to online casinos. For those not familiar with the game Suit 'Em Up blackjack you should read below how to play.
Almost the Same As Normal or Classic Blackjack
As it is similar to classic blackjack in that you play to beat the dealer. You are dealt card each one having a certain value. Your object is to have a higher score then the dealer, without going over 21.
Your Aces will be valued at either 11 or 1. King, queen, jack or ten, known as face cards will score you at 10. All the numbered cards have the same value of the number.
See the classic blackjack explanation here if that is not quite clear.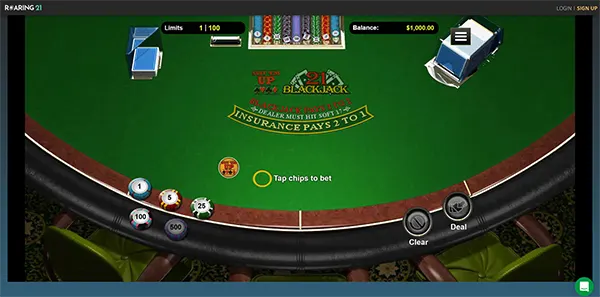 Suit'em Up Blackjack Screenshot from Roaring 21 Casino
The above variation of blackjack screenshot is from a suit em up blackjack hand. This variation can be played at online casinos all over the world.
Dealt in a Similar Fashion as Classic Blackjack With a Twist
Suit 'Em Up is deal in much the same way as other forms of blackjack. Bets are placed, you must bet within the parameters or betting limits on that table. You are dealt your cards, one face down and one face up.
After the initial deal and you and each of the other players including the dealer have 2 cards is where there is a twist. Main difference for suit em up is that you may now place a side bet.
Side bet is accepted for wagering that you will get the same suit as your face up card on the next hit.
Many Side Bets are Considered Sucker Bets
Player like yourself should be aware of the odds. Books and strategy reviews across the internet will warn you side bets have poor odds, for you not the house.
What this means is that the house will beat you on many more of the side bets. Some would say that makes you the sucker for taking the bet.
Odds Change Considerably Depending On the Shoe Size
Shoe size is the number of decks being shuffled and dealt from in the "shoe". While you may like playing blackjack with a 2 deck shoe size because you get better odds. At approximately 0.17% to 0.25%. This changes considerably with the side best of suit em up. Odds for the side bet in a 2 deck shoe are over 0.9%. If you like placing side bets, you should find tables with more decks. Keep in mind you will be playing against a higher house edge on the regular part of the game though.
RTG Casinos have Suit-Em Up Blackjack
True that you will find this bj variant in some Las Vegas Casino. Online gamblers like you that like the thrill of side bets most often will enjoy RTG Casinos (Reel Time Gaming). Casinos with RTG games are the best casinos to find Suit 'Em Up Blackjack.
Below we have list a few casinos to find suit em up or may choose others from the main navigation here at 1blckajckcasinos.
You may enjoy playing blackjack at Cherry Jackpot Casino
This Casino has more than slots, Play Blackjack at Slotocash Casino
Many variants available and Suit 'Em Up Blackjack is a premium game at Roaring 21 Casino